News
MSC SPRING BANQUET MAY 5TH - CLICK HERE FOR TICKETS
posted Apr 18, 2018, 4:01 PM
Tickets are $35 for adults (13 and older), and $20 for kids (12 and under). Children age 2 & under are admitted at no charge.
The Annual MSC Spring Banquet is on May 5th this year, at the Rouge River Community Centre.
Dinner, dancing, cash bar, awards, prizes, a 50/50 draw, games for the kids - it's fun for the whole family!
SPRING SKATING - MT. JOY ARENA - STARTS APRIL 16
posted Apr 16, 2018, 1:20 PM
Spring skating starts the week of April 16th.
Lessons for spring are all held at Mt. Joy Arena, at 16th Ave. & Hwy 48 (next to St. Brother Andre High School)
DESPITE THE WEATHER, THE SHOW WILL GO ON.
posted Apr 14, 2018, 9:56 AM
Night In The Museum - Ice Show 2018
April 13 - 7pm
April 14 - 1pm & 7pn
April 15 - 1pm
tickets available online or at the door!

"NIM" IS NOW OPEN!
posted Apr 13, 2018, 10:01 AM
Please support the wonderful sponsors who made our Ice Show 2018 possible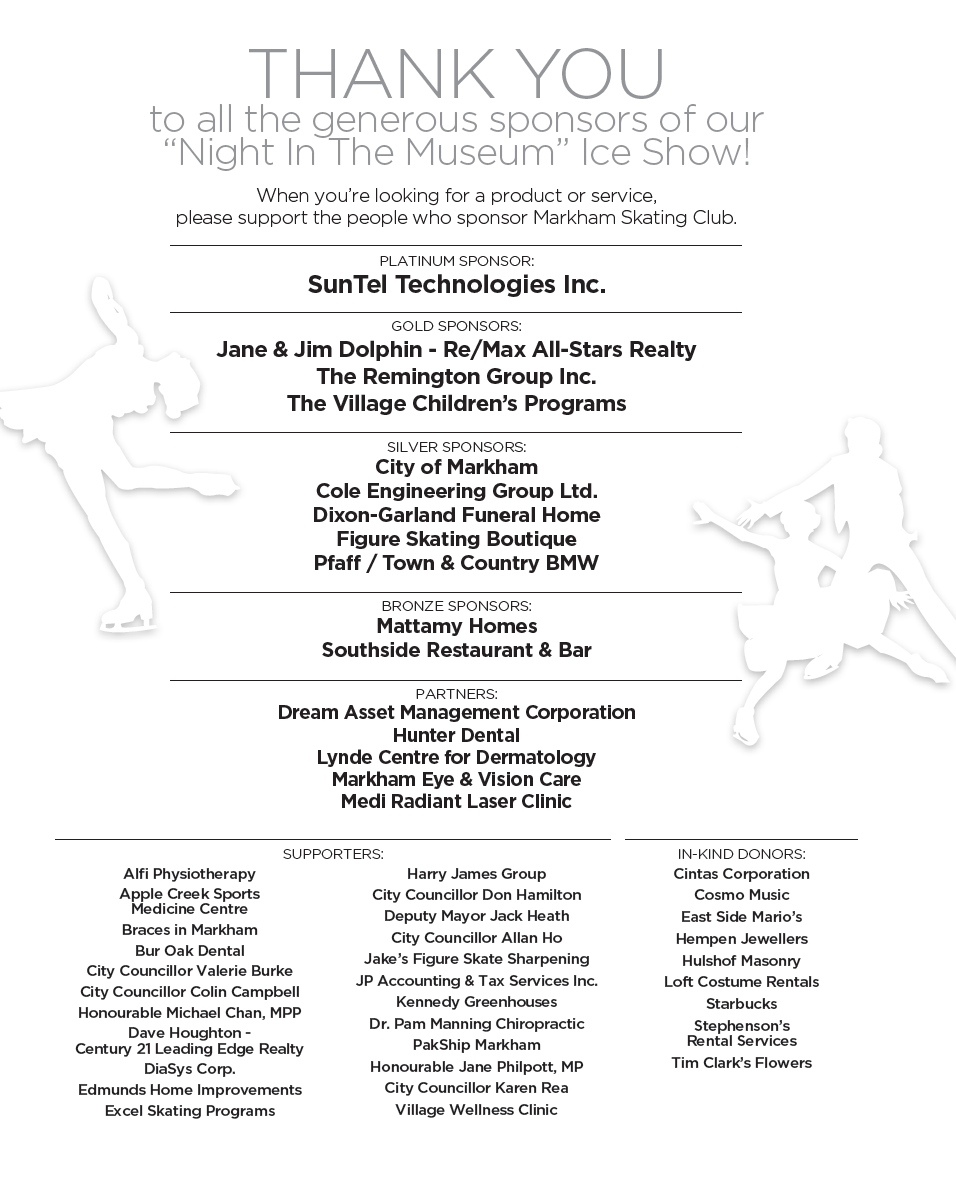 CLICK HERE FOR PRODUCTION WEEK DETAILS
posted Apr 9, 2018, 1:07 PM
All Ice Show skaters rehearse every day this week.
Monday and Tuesday - everyone be ready to skate at 5pm!
Your Information Package is SO important - download a copy here or get one at the arena.
PRODUCTION WEEK: DATES TO REMEMBER!
posted Apr 5, 2018, 5:19 PM
Monday, April 9 is PJ Day: Skate in pyjamas! Layer up to keep warm!
Tuesday, April 10 is Tacky Tuesday: Wear colourful, fun and "tacky" outfits that will be suitable for skating!
HELP NEEDED FOR SET UP!
posted Apr 3, 2018, 5:34 PM
We are still looking for helpers to join us at the arena this weekend (April 7&8) for show setup.

Meet at the arena parking lot at 9am Saturday, Sunday - or whenever you can. We will be there all day both days.

The time spent helping DOES count toward high school volunteer hours.
REHEARSAL TIMES!
posted Apr 3, 2018, 5:33 PM
This week we follow our "regular" rehearsal schedule, EXCEPT ON SATURDAY.
Please check the schedule for Saturday, April 7th CAREFULLY to see if you are needed.
TIGHTS!
posted Apr 3, 2018, 5:31 PM
ALL FEMALE SKATERS (except Cave Kids) must buy NEW skating tights. (See p. 6 of your rehearsal package).

Most sizes are available at the snack bar for $20.

If you prefer, or if we have run out of your size, you can likely get them at Figure Skating Boutique. (www.skatingboutique.com)

Tights must be Mondor bamboo footed tights, in "Caramel" or "Suntan" colour. Boot cover tights are not accepted.

Skating tights are NOT the same as dance tights or leggings.

Even if you already have skating tights, you must purchase NEW performance tights, so all skaters look the same.