Welcome to Markham Skating Club
All of our PreCanskate & CanSkate programs for spring are full!
The session runs from April 3rd until the end of May 27th. For full details, click
MSC 2017 SPRING REGISTRATION INFO (1).pdf for registration package.
IT'S TIME FOR CLUB COMPETITION!! Click here for full information. And remember, you have to be registered by March 11th. CLUB COMPETITION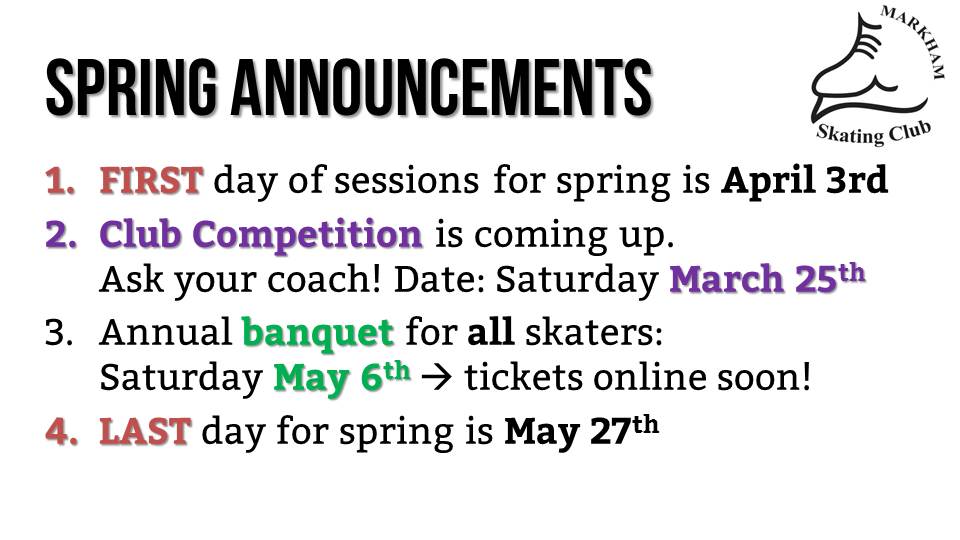 Welcome to the Markham Skating Club Since 1964, the Markham Skating Club has been committed to the development of skaters of all ages in our community. We have learn-to-skate programs for children, teens, and adults. We have programs for more advanced skaters up to Gold Level testing. We also offer the SkateCanada "CanPower" power skating program for those wishing to refine their skating skills for hockey, ringette, or figure skating.
Our Mission
From building a solid foundation in skating skills to helping individuals reach their goals and dreams, our ultimate mission is to inspire a life long love for the sport of skating.
for children aged 3 and up (

PreCanSkate

and

CanSkate

), teens and adults, for those brand new to skating, or with existing skating skills
---
for Hockey and Ringette Skills Development
---
for those interested in figure skating, after graduation from our CanSkate program