Welcome to the Markham Skating Club
Welcome to the Markham Skating Club. Since 1964, the Markham Skating Club has been committed to the development of skaters of all ages in our community. We have learn-to-skate programs for children, teens, and adults. We have programs for more advanced skaters up to Gold Level testing. We also offer the SkateCanada "CanPower" power skating program for those wishing to refine their skating skills for hockey, ringette, or figure skating.
---
Our Mission: From building a solid foundation in skating skills to helping individuals reach their goals and dreams, our ultimate mission is to inspire a life long love for the sport of skating.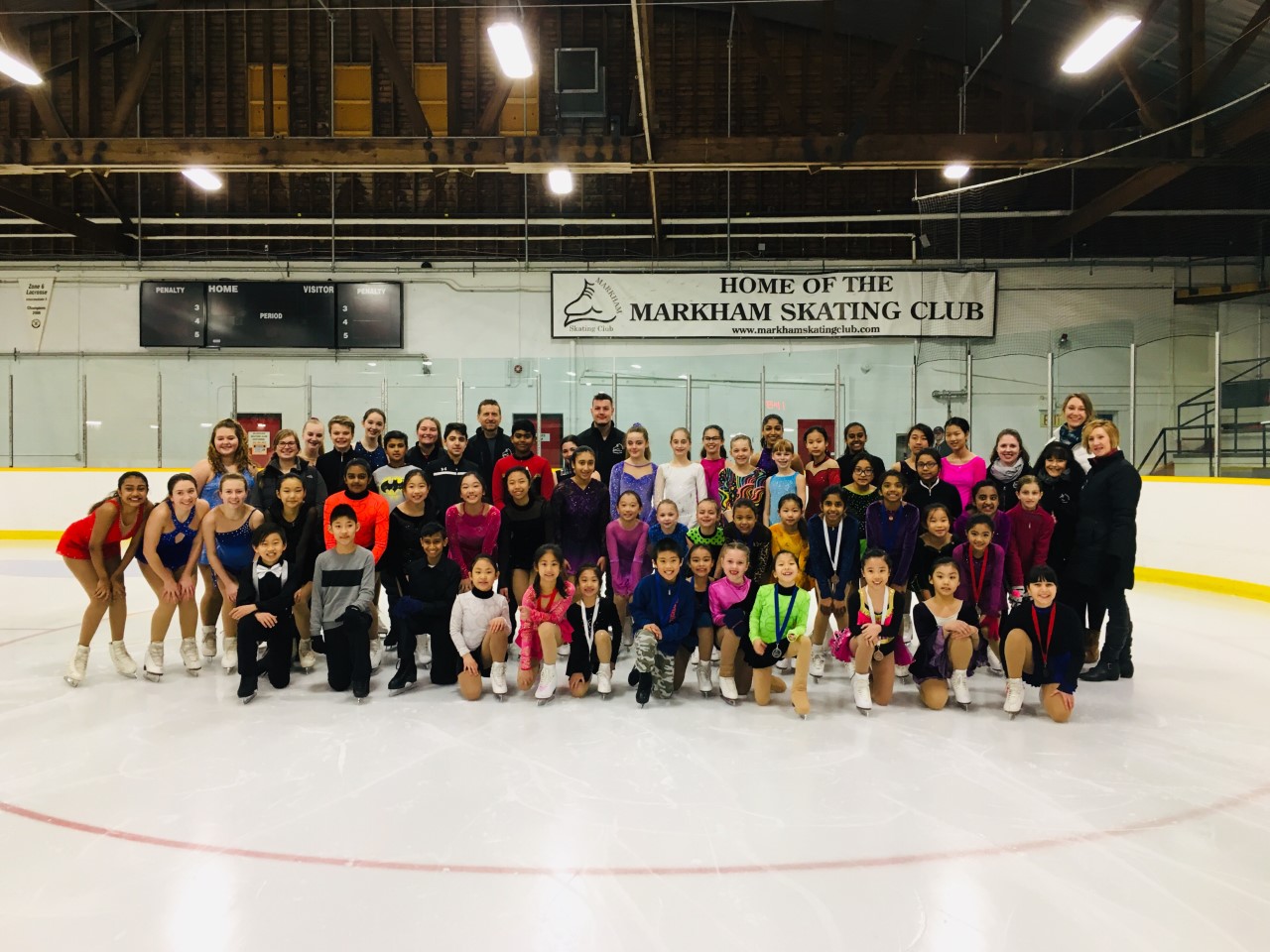 Registration for the CanSkate Challenge closes on December 7!
Registration is open for the 2019 CanSkate Challenge which will be held at our arena, the morning of Saturday December 21.

If you have not participated before, this is a fun event, especially designed for younger skaters. Skaters compete at the level of their last badge passed, so they will feel confident skating elements they have mastered. It's a great, low pressure introduction to competition and performance.

Click here for the competition details. A detailed schedule will be posted on the arena bulletin board approximately a week before the event.

Registration closes December 7 and space is limited! Sign up early to be sure you get a chance to compete.
Join us on Saturday, December 21 for Skating with Santa
The countdown is on! Our annual Skate with Santa Party is Saturday, December 21 after the CanSkate Challenge (~ from 12:40 – 2:00 pm) at the Markham Village Arena. REGULAR SESSIONS ARE CANCELLED on Saturday.

We are asking each family to create one or two (or more!) Toonie Jars which are simply decorated jars/mugs/boxes filled with small fun items for the kids. At the party, these jars will be sold for $2 each by "pick a number" lottery and the kids just love them! Please deliver your jars to the office or you can leave them with the coaches if the office isn't open the week of December 9 and 16.

After the party, we break for the holiday season. See you at the rink on January 2, 2020.
Deadline to participate in MSC's Gift Card Survivor is December 7!
The Markham Skating Club is hosting its first ever GIFT CARD SURVIVOR and we want YOU to participate! Enter for your chance to win some fabulous gift cards this holiday season, while supporting your local skating club.

Cost per ticket: $20 + one $15 gift card of your choice.

What can you win?

1st Place: 50% of the gift cards (and first pick)
2nd Place: 25% of the gift cards (and second pick)
3rd Place: 25% of the gift cards

On December 9, 2019, we will draw 50% of the tickets, with 10-20 tickets every "draw day" following until we are down to the final 3 tickets. Draws will take place every Monday, Wednesday and Friday until the final draw date of December 20, 2019.

Don't delay...sign up for GIFT CARD SURVIVOR before December 7, 2019 for your chance to win! For more information, please reach out to iceshow@markhamskatingclub.com.

Click here for more information.
Volunteer for MSC's Summer Staycation Ice Show 2020